The stats helper monkeys at WordPress.com mulled over how this blog did in 2010, and here's a high level summary of its overall blog health: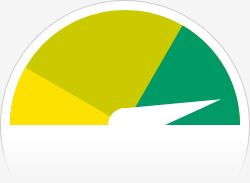 The Blog-Health-o-Meter™ reads Wow.
Yep, that's me! As always, I'm waaay behind schedule, but better late than never — so here's the 2010-in-review-post combined with my New Year's Resolutions. Let's do the latter first, because that's easy. And they also, sadly, don't vary that much from year to year. So, here goes:
Exercise more. Seriously, especially since I started to work full-time things have gotten out of hand. So it's back to running and calisthenics again.
Take more photos. I've been especially bad about this last year, partly because I did little else except working, partly because I feel there is just not that much to take photos of where I live. So for 2011 I thought I'd start doing one of those 1 photo per day thingies. I probably won't be able to upload the photo promptly on the day I took it, so there will be some backlog. [I already fucked that one up, but what the heck…] However, those photos go here. The idea is simply to take more photos, period, so don't hate on me, suckers.
Write more. Here and offline.  I also want to work on storytelling, so I want to do some research into traditional folk tales as well practice life-storytelling — no idea how that project will go…I took a week-long workshop/retreat last year, so something should have stuck…
Be more creative. From what it looks like, The Wife and I will stay in that dreaded East Coast town for at least another 10-12 months, so I have to figure out a way to make things more fun for me. So I want to continue to work on some of the stuff I started in the last couple of weeks, with is doing some woodworking & whittling, as well as painting.
Be more bad-ass about my work-life-balance. Seriously, the last three months were just a killer, with a lot of work in the evenings and on weekends, which — to that extend — is not part of my contract and really started taking a toll on my private life. Essentially, I only slept and worked and that's not the way I want it to go this year. So I need to do some more far-sighted planning when scheduling trainings, etc., and be more strict about what I'm willing to do and what not.
And finally — brew some fucking beer. I've been a terrible bum about this.
Now that that's out of the way, what about 2010? Overall, last year went pretty well work-wise. I got a full-time job after working part-time for a couple of months and not being able to find work at all for the months before that. The best part is that I'm putting skills on my résumé that are all transferable, so finding work somewhere else will hopefully be easier than it was a year ago.
Life-wise things have also been going well. I got to know a bunch of great people and overcame my neurotic tendencies and had those people over for stew-dinners, chicken-dinners, and what not. It was fun and not as stressful as I'd thought these things would be. So that's going to continue in 2011.
On the downside, this town did not grow on me at all over the last year, even though I'm much more involved in 'town-business' than before. And that says a lot, I think. And I'm not alone in this opinion. Being on the West Coast for a couple of weeks got The Wife and I talking again about options, but these kinds of decisions depend on a number of things (job opportunities, first of all…) so I we will stay on the East Coast at least until Fall or Winter this year.
So, yeah, 2011 starts with some mixed feelings.